Where you buy your yoga and workout apparel can be a challenging decision. You want quality clothing that will last, but don't want to pay astronomical prices. If you don't pay the prices but want your clothes to hold up, your options are limited. 90 Degree by Reflex is a great brand that offers affordable clothing that will hold up to all your activities. They are a lifestyle brand that specializes in yoga wear and some athleisure. You can find their items on Amazon and on their website. Here are a few of their products and why I think they are great!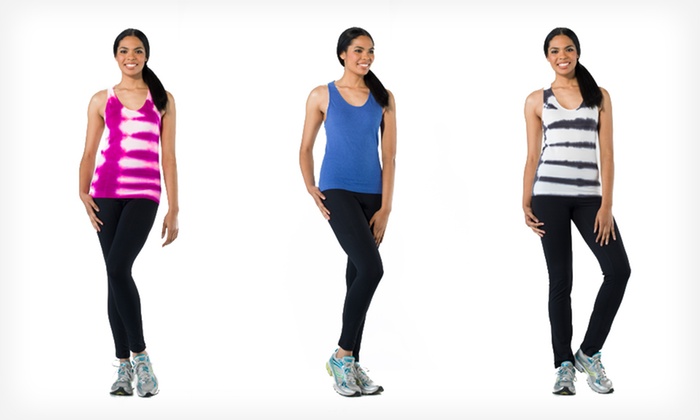 Power Flex Racerback Tank Top 2 pack – I love this tank top because it's so comfortable and simple. The two-pack comes in black and charcoal, so they can match with almost anything. The tops won't ride up while you're doing poses like downward-facing dog. At 19.99 for the pack they are definitely a steal!
6 Pack Fleece Lined Tights – As we approach winter, if you live in a cooler climate, keeping your legs warm is going to become a priority. These leggings will keep your legs warm without suffocating them. They can be dressed up with a dress or a tunic or wear around the house for relaxing. The 6 pack comes in multiple colors, so you can easily match with multiple items!
90 Degree By Reflex Yoga Lounge Pants – These pants make a lazy day at home even better. The material is soft and stretchy. The fit is relaxed and ankle length but not quite a jogger. They do measure one size small and when you wash them, make sure to air dry. While these are primarily a lounge pant, they stretch enough that they would work for a low impact yoga or other workout class!
90 Degree By Reflex Women's Power Flex Yoga Pants – These pants are fantastic for lounging and exercise. The fabric helps to wick moisture from your body while doing a high-intensity workout, and it contours to your body, so you won't have to worry about pulling them up constantly. They are comfortable to wear while running around and doing errands as well. The leggings come in multiple colors, so you can easily match them with whatever top and shoes you'd like! They look great with running shoes and even a pair of converse.
90 Degree By Reflex High Fashion Yoga Leggings – If you're looking to add a little flair to your workout and loungewear clothing, these are your answer. My favorite pattern is black with mesh panels. The leggings have a high shine finish giving the leggings a slightly leather look which is great for a night out or going to a concert but can also be worn when you want to feel a little fancier lounging around the house. The material contours to your body so you don't have to worry about them falling down.
90 Degree By Reflex has some great products and caters itself to a variety of styles and sizes. They truly have found the sweet spot between cost and quality. These are just a few of my favorite items but they have plenty more to choose from! Their products are great for lounging and working out, so whatever your activity of the day is you'll find exactly what you need.